Help Us Rebuild NOC
UPDATE: Thanks so much for all your support! We've hit our initial goal of $25,000. Help us keep the momentum going and make sure we have the resources required for closing costs and legal fees! We can do this!
The Minneapolis Fire and Police Departments have determined that arson is the likely cause of the fire that destroyed our office and much of the 900 block of Broadway Avenue in North Minneapolis. 
We're overwhelmed with the knowledge that someone would intentionally burn down the home of our beloved office along with the homes and businesses of dozens of dynamic residents. We're stunned, saddened, and outraged - but NOT intimidated. In fact, we're more determined than ever to invest in our community, rebuild our vibrant block and reclaim our organizing space. NOC has a vision: To buy back our shell of a building and create a permanent space for us to grow, dream, build, and organize.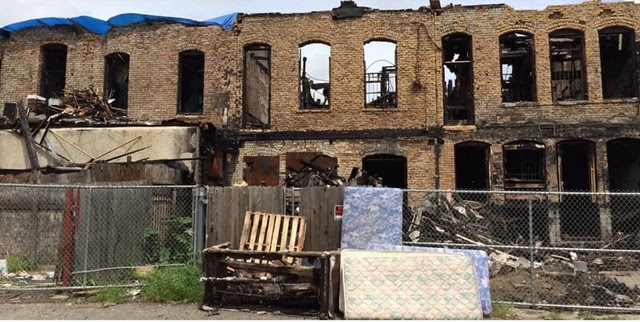 We know that big developers and other disaster capitalists are beginning to swarm the block, hoping for the chance to buy up prime land on a vibrant commercial corridor. This is the harsh historical reality for those living and working in underresourced communities of color. In our darkest hour we're often sold off to the highest bidder. We're told that bad things happen -- even to good people -- and that somehow our displacement will result in a better future. Move along. Nothing more to see.
We disagree. We want and deserve better. We want to stay.
With your support we can turn this crisis into an opportunity. An opportunity to reshape the future of NOC along with this historic block in north Minneapolis. We're incredibly inspired to embark on this vision together and thank you in advance for all your continued support.  
Donate online here, or mail a check to:
Neighborhoods Organizing for Change
1101 W Broadway Ave
Minneapolis, MN 55411